Vietnam March 1969/March 1970
My Duty Station was 619th TAC, my duties were to provide prime power to our site with minimal down time. Success! We worked 12-hour shifts rotating, days, swings and mids. 2 days off between each rotation. We had 3 airmen beside myself when I first arrived. First Power Plant was 4 Diesel Generators, later a Red Horse Build us a new plant much bigger, 6 Units.
We took incoming every night that I was there. The first week I barely slept. Needless to say, I was very afraid that I was not going home alive. We were fully armed, flax jackets, helmets and many rounds that we carried with us. Most attacts happened at night, anytime between 2400/0230.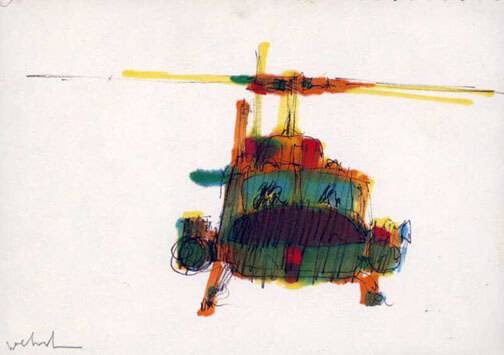 After a few weeks, I had to find something to do with my off time. I volunteered as a MARS Operator, as they were short of Radio personnel. Than I volunteered to help Mountain yard's with clothing and food. We feed our local orphanage, which consisted mostly of children. I volunteered to help out the Army with one of there Diesel Generator units at a rock crushing operation about 20 miles from my site. We were under fire most of the time, don't ask me how but we managed to get them up and running without getting shot. No more duties for me like that. LOL
At that time we were told we need to train ARVN to take over operations of our power plant. That was not too bad of a program. I could not speak their language and they mine, but we managed to figure out a way to show them the ropes. They did work much, maybe 4 hours a day and no nights.
The Story I want to tell is a night that all hell broke loose.
Red Horse had finished building us new quarters and bathrooms with showers.
Read More
Close

(A short Flash back here, the first 8 months in the county we had only potable drinking water. You got enough to brush your teeth and wash your face. After the monsoons came we had lots of water. Must have been 30 of us in the compound in our undies or not with a bar of soap scrubbing down that first night of the rains.)
Back to the story.


Close
I was talking about the shower's, with sinks, toilets, mirrors to shave by hot water, it was to open the next day. Midnight came and we started to take incoming, the cobras were up the gun ships, more incoming, they hit the quarters, but we were all up and armed headed for the bunkers.
I and Sam were responsible to see that all were out of the barraks, the LT was coming by our door and told us to follow him that one of our bunkers had been hit. We followed him, still incoming, to the bunker, and called out the airman that was on watch, he didn't answer, we peek around the corner and called his name, he was up against the wall armed, we told him who we were, and he let us enter. He was scared just like us, his bunker was hit, but he was ok.
Thank God we had the Army guarding our perimeter. I learned later that base had been overrun in 1971.
We had cuts and bruises, but nothing serious. No deaths in our compound, the Army was not so lucky they sustained many deaths mostly from incoming, we took over 250 rounds into our small compound. Many VC were found on the outside of our base dead. They said it was a major attack on our base. Thank God we had the Army guarding our perimeter. I learned later that, that base had been overrun in 1971.
When I first got home, I was very angry, my wife had tried to move and on several occasions was told that as long as your husband is in Vietnam we have no place for you. I could not understand why American's were bashing soldiers who were fighting for the rights of people who wanted to be free. To this day I don't get it. I joined several clubs, American Legion, VFW, DAV, AMVETS, and fought with them so that no American Solder is ever treated like that again.
There are other stories but talking about this, has brought back some bad stuff, so I'm done. Sorry no pictures for you, My Granddaughter took all mine pictures and put them in a memory book, and I think I'll leave them there. You know that was 47 years ago, and some of it i remember like it was yesterday!
Thanks for doing this for our Vietnam Verterans. Love you all. Keith
Biographical Details
Submitted From: Forest Lake, MN

Primary Location During Vietnam: Bim, Vietnam

Story Subject: Military Service
Military Branch: U.S. Air Force
Dates of Service: 1964 - 1972
Veteran Organization: American Legion, VFW, DAV, Amvets
Unit: 692 Radar, 619 TAC, 7th AF
Specialty: Electrical Power Production
Story Themes: 619th TAC, American Legion, Amvets, Close Call, Combat, Coming Home, DAV, Disabled American Veterans, Fear, Firefight, MARS Operator, Red Horse, Veterans of Foreign Wars, VFW
Recommended Stories