VIETNAM... 1967... 1968... 1969
After all, it was 50 years on December 9th, 2017. Mary reminds me of the day I left, destination Vietnam. Like an anniversary, she never forgets. Like a day so significant that you will always remember where you were and what you were doing. The dreaded goodbye. She couldn't bear going with me to the airport, so memories of that, sadness, anxiety, fears and tears.
I also remember saying goodbye to my Mom and Dad. For the most part, they rarely showed affection to each other, but for this, Dad embraced Mom while she cried. Like Mary, Mom would not go to the airport either, so it was up to Dad. I remember a long, quiet ride to MSP. Like the others, he could not escort me to the gate, but simply said "goodbye, be safe." I was on my own.
Select the to set up the slideshow.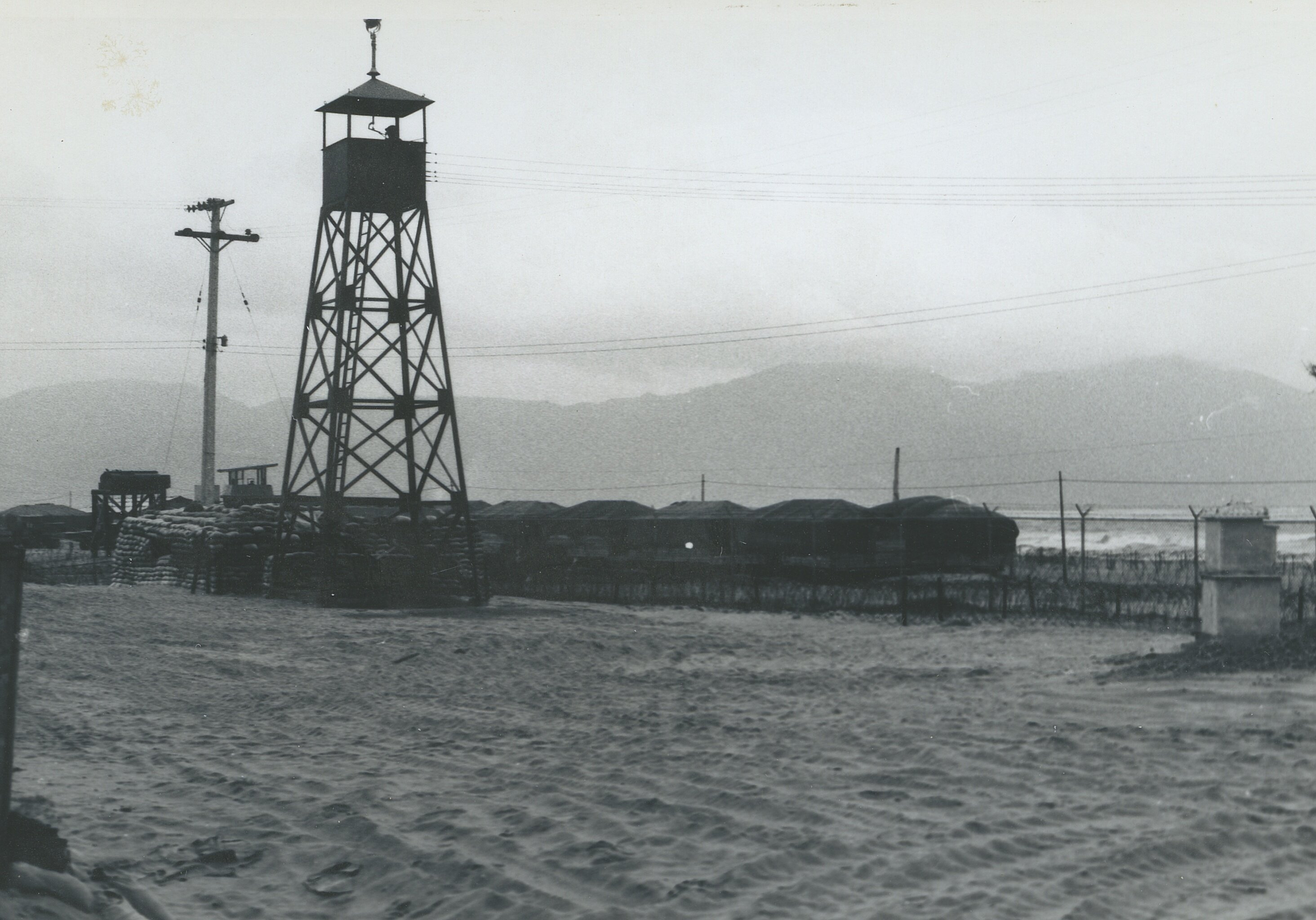 I thought about this day over and over for months and wondered how it would feel. A combination of great anticipation, curiosity, anxiety, and some fear all at once. To be away for thirteen months? What was I heading into? Would I come back home? Could I convince my brother what I was doing was right for me and our country? Why wouldn't he support me? Why was I so upset about it, and the protests?
Going back to October of 1965, having just graduated from the University of Minnesota, I left St. Paul en route to Quantico, Virginia. I had voluntarily joined the Marine Corps Reserve and was about to attend Officer Candidate School for ten weeks, and on graduation day, receive the rank of 2nd Lieutenant. My intention was to proceed to Pensacola, Florida for flight training.
I will never forget the harassment of the platoon Sargent at Quantico, particularly wishing us a Merry Christmas as it would be the last for some (unfortunately true!)
I was subsequently designated a "Naval Aviator" on the fourth day of April, 1967. After pinning on my "wings of gold" I was assigned to Camp Pendleton, California to train and transition to the UH1-E "HUEY" gunship helicopter. Basic airframe, limitations, flight techniques, tactics, formation flying, and the operation and use of the "HUEY's" weapon systems were all part of the syllabus at Pendleton.
It was at this time, between Officer Candidate School and graduation from flight school that I will NEVER FORGET the harassment of the platoon Sargent at Quantico, particularly wishing us a Merry Christmas as it would be the last for some (unfortunately true!) and of course the decision that Mary and I made to be married on May 28th, 1966 shortly after I began flight training. We both agreed the timing was right, since a thirteen month separation in Vietnam was imminent after advanced flight training in California.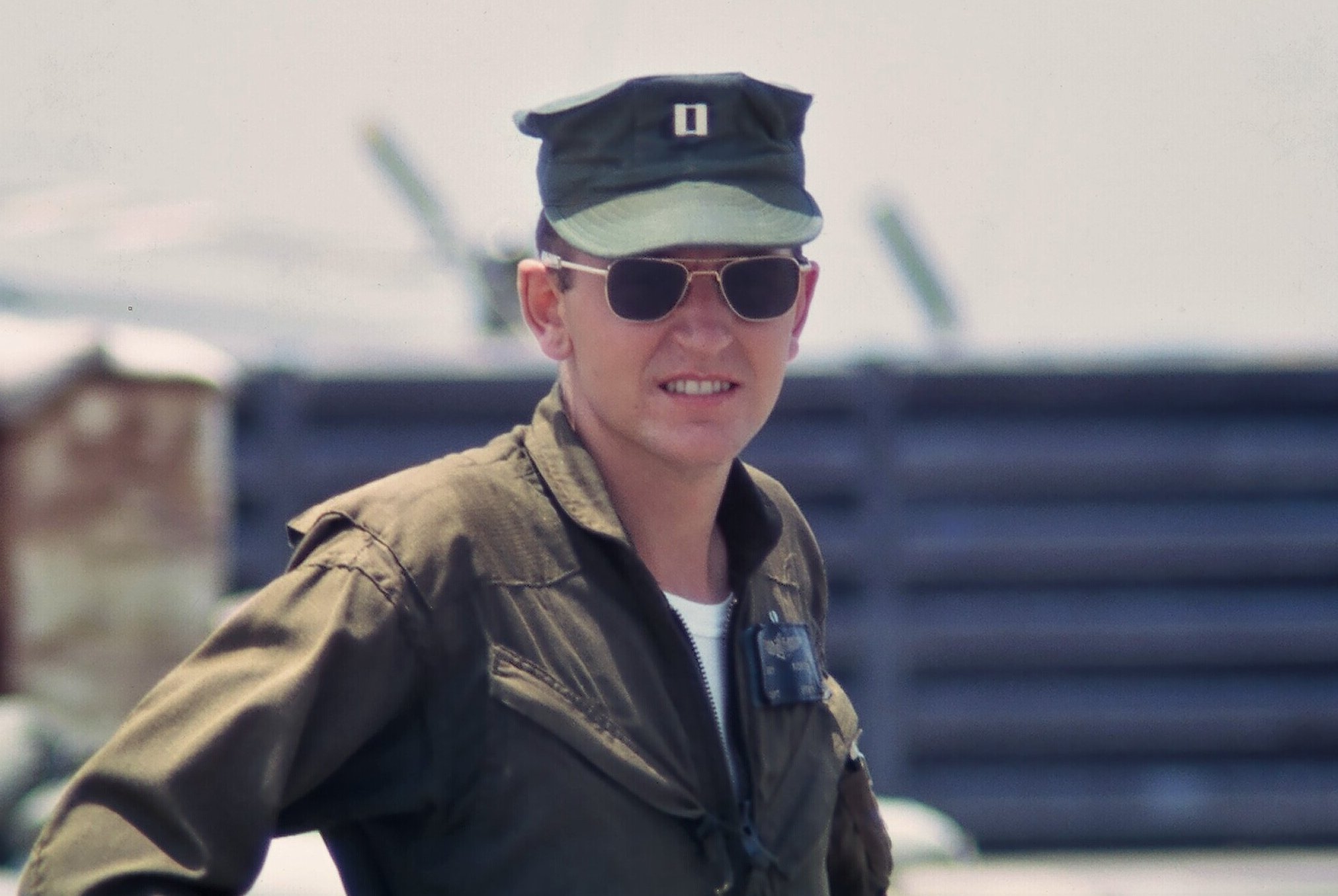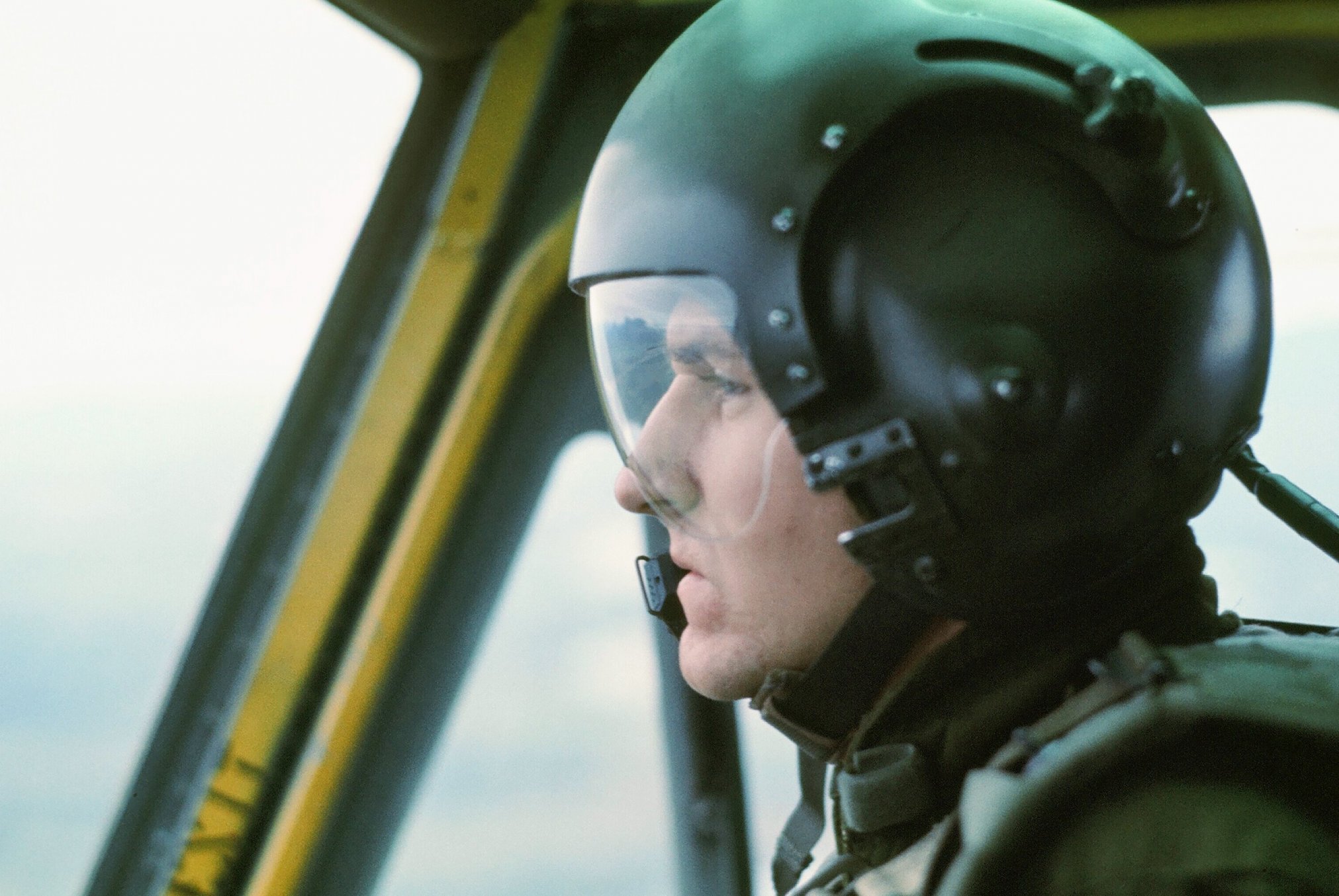 Wheels down, I will REMEMBER ALWAYS the aircraft approach into the DaNang Airport. It was during the day, and gray overcast. The dark heavy clouds matched my mood, and as we broke out of the clouds I saw my first glimpse of Vietnam. In fact, all on board with great curiosity squeezed to look thru the aircraft windows to see bright green vegetation, water buffalo, a scattering of Vietnamese civilian farmers in rice patties pock marked with bomb craters here and there, and finally, DaNang itself.
I will NEVER FORGET disembarking the aircraft at DaNang airfield, full of military paraphernalia, the hustle, and taking notice of a flight of two UH1-E's flying formation, low level, 100 to 200 feet above ground at the end of the runway, en route to who knows where or what? I felt that if they could fly safely at that altitude, I could too. I felt reassured. I was naive and unaware that there were standard departure and arrival flights into and out of the airport and into the area of operation for helicopters at low level, so as to avoid fixed wing aircraft traffic at the DaNang airport. Once out of the safe zone, the HUEY's would climb to 1500 or 2000 feet above ground to be out reach of effective small arms fire.
Select the to set up the slideshow.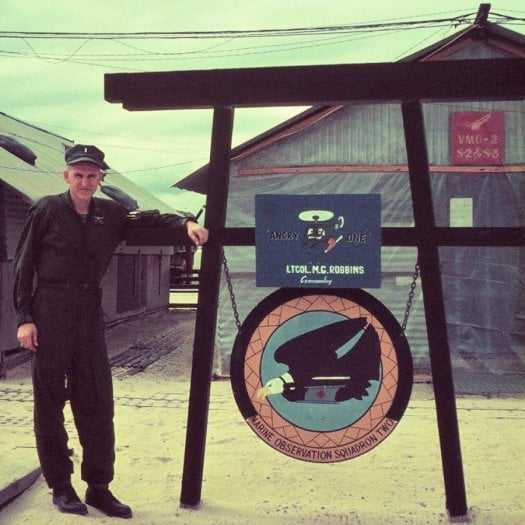 I was assigned to the 1st Marine Division and sent to Marble Mountain Airfield to Join Marine Air Group 16 and VMO2.
VMO2, where I would spend the next thirteen months, was just south of DaNang. The name of the so called Marble Mountain Airfield, was derived from a smattering of granite outcroppings jutting out of the sandy beach of the south China sea, about 200 feet high and the size of a few football fields. The squadrons tactical area of operation was refereed to as I corps, and extended to the south to Chu Lai, West as far as the Laotian border, and to the North as far as Quang Tri and the DMZ.
The UH1-E "HUEY" was the most extraordinary aircraft that operated in Vietnam and I had the honor of flying it for thirteen months and over nine hundred combat flight hours.
All knew the sights and sound of the "HUEY" when airborne. And just as the Jeep became the soldiers best friend in WWII, for many Soldiers and Marines, there will always be something special about the "HUEY."
It was the aircraft that took troops into and out of battle, and it was the aircraft that saved countless lives as the the severely wounded were rushed out of the battlefield to a field hospital within the "golden hour." Sixty minutes could mean life or death.
The HUEY was the helicopter that drove the enemy away from "friendly troops" with it's rockets and machine guns. Pictures and monuments depict troops on the ground, staging for a pickup, glancing skyward in anticipation of relief or help from the most beautiful "bird" and it's aircrew.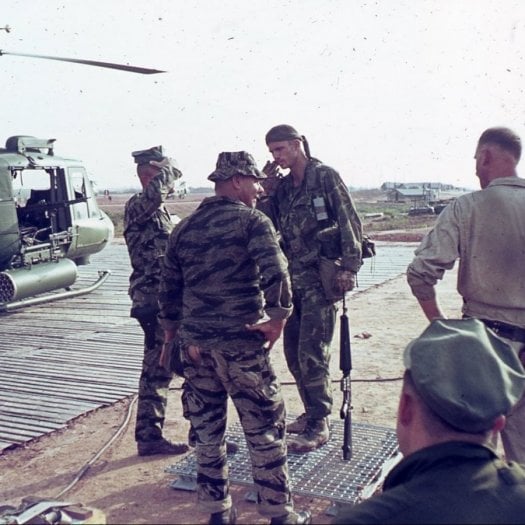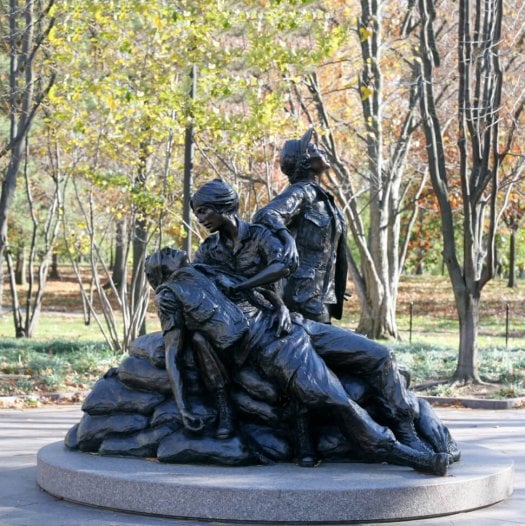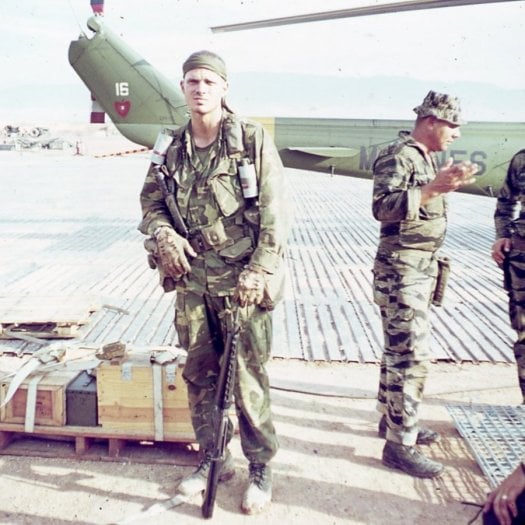 Why was the "HUEY" so extraordinary? Because of it's versatility.
It could ATTACK with firepower. Typically it was configured with four fix mounted, forward firing M60 machine guns, controlled by the pilot or copilot and two side mounted 2.75 rocket pods, loaded with 19 rockets apiece, also controlled by the pilots. Finally, there were two more M60's, both forward and sideways shooting, aimed and operated by the two crewcheifs.
It could perform Fly VIP missions. Stripped of it's firepower, and adding a few amenities, it had a "slick" configuration.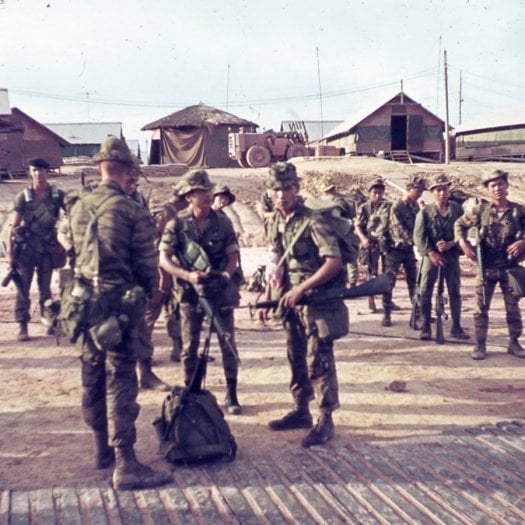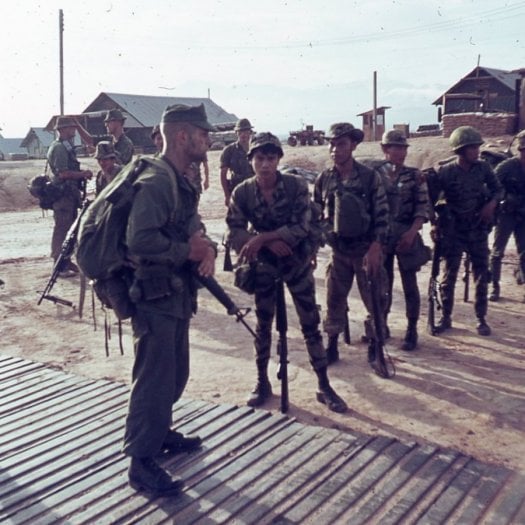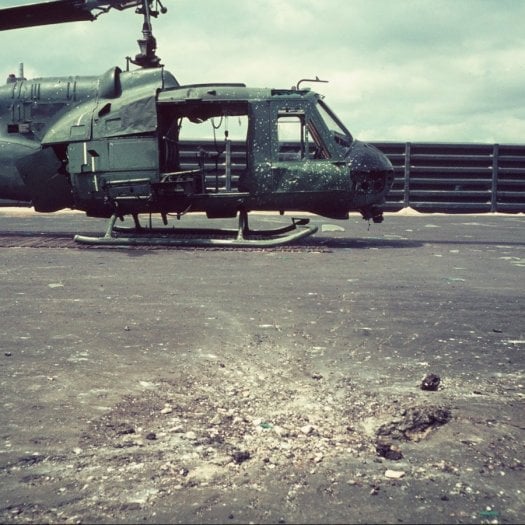 This mission, MEDICAL evacuation was the most satisfying flight, but presented great exposure to the aircraft and crew.
The "HUEY" would contact and CONTROL fixed wing airstrikes and Naval battleship bombardments (NEW JERSEY) on the heads of the enemy.
RECONISSENCE teams were inserted and extracted behind enemy lines and unique HOIST operations (sick combat dogs.)
ANTI- PERSONNEL detection. Three UH1-E's, one low level, 200 feet with the sniffer, one at 1500 feet providing cover, and one at 2000 feet marking the map for artillery interdiction later on.
The FIREFLY. It's mission was to prevent enemy river traffic at night. Three UH1-E's, one low level observing just above the river, one at 1500 feet providing cover, and one at 2000 feet with the spotlight.
We noticed that, while the corpse was still lying in the sampan, it was mercifully covered completely with sand. It remained such for days. And the Tet Offensive raged on.
I'll NEVER FORGET our squadron call-sign... Hostage. I also remember seeing the first dead enemy soldier, floating face down in the river south of DaNang, with his arm and legs splayed out, motionless, floating slowly downstream, and again, during TET, the body of a Viet Cong laid out face up on the bow of a sampan beached on the river edge for days.
The sampan was located along our standard departure and approach route to and from Marble Mountain, and we were low level, as always. We noticed that, while the corpse was still lying in the sampan, it was mercifully covered completely with sand. It remained such for days. And the TET offensive raged on.
I'll especially REMEMBER the longest mission during my thirteen month tour, nine hours of flight time, attempting to recover the remains of a fellow Minnesota pilot. He was a squadron mate while in Pensacola, Florida and Camp Pendleton, California. He and six others died on the side a mountain just North of DaNang.
Read More
Read Less

What I will REMEMBER always:
"Engagement rules" which required "permission to engage" or "return fire" even as we were TAKING fire from the ground. Those were the rules. Sensibly, we would return fire if received fire. Permission was a rule to be broken as we were aggressively being attracted.
How could I FORGET hugging the ground outside the "ready room" during a rocket/mortar attack at night during TET, listening to the incoming as the round came in to the flight line, praying it would not land nearby.
The standard navigational aids aboard military aircraft in that era known as "ADF" would also allow the pilots to listen to AM radio. In Vietnam, the station we regularly listen to was the Armed Forces Vietnam Network (Good Morning Vietnam!). While flying combat missions, I listened to "Breaking News" announcing the assassination of first, Martin Luther King Jr., April 4th, 1968 and secondly, on June 6th, 1968, the assassination of Robert "Bobby" Kennedy. I wondered "what was going on at home? I was very upset because both were good people. I will NEVER FORGET where I was each day those two beautiful people died.
Thirteen months of combat missions virtually every day was tough, mentally especially. I recognized my emotional sickness and asked for "time out" from the CO of VMO-2. Hong Kong was where he sent me for 5 days to refresh and reset. I won't FORGET that trip.
I REMEMBER the "body counts." When we would support the Marines on the ground with rockets and guns, we were required to file an "after action report" and confirm or verify enemy KIA. We would be as accurate as possible but knew that most of the time, that number would be our "best guess." Today as I listen to the media report battlefield KIA, I doubt it.
I will NEVER FORGET my last flight. I decided to "ground" myself a week prior to actually departing Vietnam. The Commander of VMO-2 did not decide, I decided. I knew it was time to quit. It was a decision based on common sense and recognizing how thirteen months of combat had changed me.
Landing at Marble Mountain for the last time (early January, 1969) performing the standard post-flight of the aircraft, I saw evidence of how aggressive I was during that last day. There was MUD and SCHRAPNAL sprayed on the windscreen and fuselage! Nowhere in flight training doctrine does it say fly so low that one could fly thru your own rocket blast! Not only was I risking myself and the aircraft by attacking so carelessly, but I was risking the lives of three other Marines aboard the aircraft too.
Slowly, over a period of thirteen months, I changed from flying responsibly, making good decisions, flying safely, protecting my crew, fulfilling my job as a Marine pilot, to an aggressive, dangerous, frustrated and irresponsible pilot-in-command, who became intent on taking a man's life simply because he walked away from a "search and destroy" mission. Perceived rightly or wrongly, who also may or may not have been guilty or innocent, I perceived him and many like him as enemy, and I intended to "getting even." Repeatedly, over the years and to this day, I still REMEMBER this particular man, civilian or soldier, wounded, crawling for cover in the rice paddy. I don't know if he lived or died. I regretted my actions greatly. I wanted to go home.

Close
In conclusion, in My Story, I have not dwelt on the harrowing flights that I flew in all of 1968. The height of the war, the TET offensive, dangerous emergency med-vac missions from mountain top landing zones where we should not have made the approach to land, but we landed anyway. I did not record in detail the epic battle of the Khe Sanh siege where Marines held off the North Vietnamese for months during TET at great cost in lives.
Select the to set up the slideshow.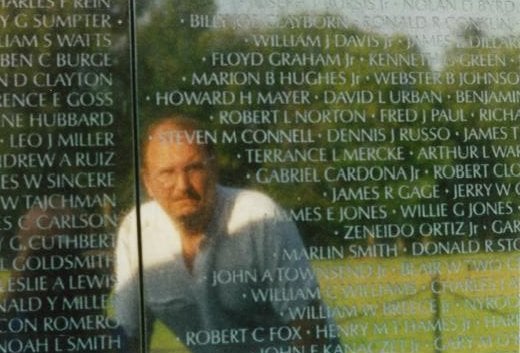 I REMEMBER escorting by air, the US Commanding Officer of Vietnam to the Khe Sanh airfield, where he conducted a "closing ceremony" by giving a speech and then abandoned the base with the BAND playing. That mission was similar to others where our Marines took a hill at great cost, and left the next day. No one should Forget the historic battle that raged in Hue City (the Citadel) and Phu Bai. I have not detailed making two forced landings after taking hits from enemy fire. I will REMEMBER ALWAYS the loss of our squadron mates, and I ask YOU to not to forget. Thirteen of thirty-six squadron pilots died that year. Each was well educated, a college graduate, physically and morally fit, mostly young Marines.
Finally, I want those that have read "MY STORY" to remember my wife Mary and all other military wives who also bear the burden of extended separation from their spouse, especially during VIETNAM War in the late sixties and early seventies. It was a troubling period in our history with much polarization politically about the War and those that served. On my behalf and likewise hers, she went to church every morning while I was deployed, seeking refuge and strength for her, and safety for me. From Mass to work, Mary was hesitant to mention that she was a military wife with her husband serving in Vietnam for fear of being ridiculed or shunned.
On my behalf and likewise hers, she went to church every morning while I was deployed, seeking refuge and strength for her, and safety for me. From Mass to work, Mary was hesitant to mention that she was a military wife for fear of being ridiculed or shunned.
Why, while serving our country, some as volunteers, but overwhelmingly most drafted, why were we and our families treated like that? Thankfully attitudes have changed, and because as I proudly wear my DaNang, VMO-2 military type cover almost every day, I receive kind words such as "welcome home, thank you for your service."
I graciously thank them, but in addition, ask them also to remember the fallen Soldier, Sailor, Airmen, Marine, Engineer, Seabee and all that served, and also thank my wife Mary, who mostly accompanies me wherever we go... and all other military wives and families, by saying "welcome home, thank you for your SACRIFICE."
Proudly submitted. Gary A. Norton
Select the to set up the slideshow.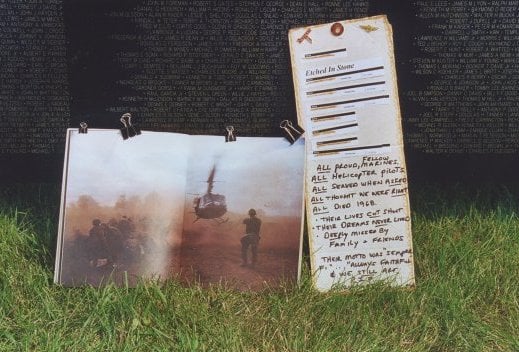 GOD BLESS THE MAN WHO RUNS

TOWARD THE SOUND OF GUNFIRE.

ANONNAMOUS
A POLITICIAN

IS A FELLOW WHO WILL

LAY DOWN YOUR LIFE FOR HIS COUNTRY.
TEX GUINAN
Story Themes: 1965, 1966, 1967, 1968, 1969, 1970, 1st Marines, AFVN, Armed Forces Vietnam Network, Assassination, California, Camp Pendleton, Da Nang, DAV, Death and Loss, Disabled American Veterans, First Impressions, Gary Norton, Good Morning Vietnam, Helicopter, Hong Kong, Hue, Huey, I Corps, Khe Sanh, Lindstrom, Look, Marble Mountains, Marines, Marriage, Martin Luther King Jr., Monkey Mountain, Pensacola, Phu Bai, Regret, Religion, Robert Kennedy, Tet Offensive, The Vietnam Women's Memorial
Recommended Stories