tour 365
I was raised in an Air Force family. My dad was a WWII Vet........... the last thing I wanted to do was to be in the service.
My folks were assigned to Kincheloe A.F.B. in 1963. I Graduated High School in 1967 in the Upper Peninsula of Michigan my father was reassigned to California so our family moved to Moreno Valley, CA. and I attended Riverside City College. There I met a MN. girl from Richfield. Fell in love, became engaged, (got married ten days after I got out of the Army) loved college life, dropped an English class because the teacher was so tough and because of that dropped class, which unknown to me at that time was the cause of being DRAFTED.
College life was such, that a teenager had little time to worry about Vietnam. Again all of my parents, teachers, counselors NO ONE was talking to me (or us) about the meat grinder we would be facing in Vietnam. By 1968 16,592 had already been killed in action. How I wished I had been better informed.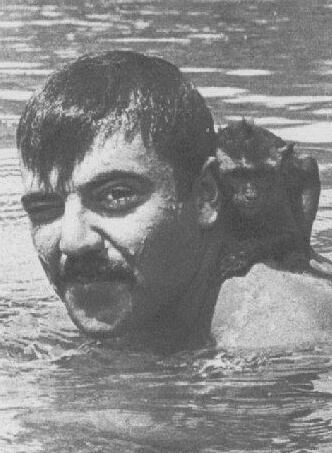 My Father (born 1921) served in WWII and was a Medic in Southern England. His job was to meet the Bomber Crews returning for bombing Europe. His Father my Grandfather (born 1891) was American-Croatian and served in the Rainbow Division and was gassed a few days before armistice. He survived. Neither one of these knowledgeable mentors advised me on "what might happen to me" if I got drafted.
I was very surprised when my DRAFT NOTICE showed up. I had made up the necessary credits during summer school, alas it did me no good. Once in the pool to be DRAFTED you had no chance to escape. Going to Canada for me was not an option.
My choices were to enlist, or to be drafted, or to disgrace my family by running to Canada to avoid being drafted. I took THE STEP in Los Angeles Induction Station on August 20th, 1968. Hippies were outside trying to encourage us to get on their bus for Canada.
I took my Basic Combat Training and Advanced Infantry Training in Ft. Ord, CA. Our Infantry Cycle was cut short by 2 weeks to give us a short leave at Christmas to be at home with our families. The ride from the airport to home with Mom and Dad was made rather somber when Dad asked "where is your next duty station?" Every man in my Infantry Company got orders for Vietnam except one guy. He had bad teeth.
January 7th 1969 I arrived in Viet Nam and was bussed to 90th Replacement Battalion for assignment. To my surprise I was assigned to The 11th Armored Cavalry Regiment (The Blackhorse). I had been trained Infantry. I was being assigned to the ONLY all armored unit in Vietnam.
Read More
Read Less

Our Regimental Commander was Col. George Patton (yes the son of the well know WWII General). Patton's son, our Regimental Commander coined the Motto "Find the Bastards and pile on!"
The Cavalry traded horses for Tanks and Armored vehicles right after WWI. The 11th ACR was a renowned unit that had an unbelievable amount of massive fire power. A Troop (Cavalry term for Company) consisted of about 36 vehicles. 9 Sheridan Tanks which were developed to fire missiles and had a 152mm cannon. We were the first unit to use theses in combat. We were the Guinea Pigs.
Twenty seven M113's converted into Combat Assault Vehicles. Each equipped with one .50 Caliber Machine Gun and two M-60 machine guns. I was in 1st Platoon Alpha Troop. Combined in our Troop we had, 9 Tank Cannons, 36 .50 Cal machine guns, 36 m-60 machine guns. No one can imagine the volume of noise created by our unit when we would be in a Fire Fight. The wall of lead we could spit out always caused us to be thankful we were not on the receiving end of this volume of fire.
During that year 1969 22 men from Alpha Troop were killed in action. Sixty were wounded some so severely that they never came back to the field. We had about 120 men in Alpha Troop. During the 11th ACR's six years of service our unit had 730 men killed in action.
The tour of duty in Combat Units was one year. Of that I spent 9 months in the field and the other 3 months in the Hospital recovering from combat wounds. I consider myself very lucky and blessed that I made it home.
Like many who returned from Vietnam the reception was not at all what we expected. This caused most of us to delay the processing of "Our Vietnam Experience" for some time. This naturally led to problems. Some Vets still have not acknowledged the need to open up that part of themselves involving "my experiences."
Five years counseling helped me get my mind right. Vietnam changed my life. I have PTSD. I don't trust many people. Too many of our politicians lied to us. Our parents and politicians were older than us, our parents told us to trust people who were older and especially people in authority.


Close
Examining the facts of "how we got involved" and 'Why were we in" Vietnam took me the a long time to sort out. Everything I studied pointed out that politicians would rather see young men killed, than to lose face, or lose a war. This political arrogance accounted for over 58,000 lives to be wasted. And still our politicians want to play "Texas Ranger" to the world. As in Viet Nam, the powers in some of these countries where there are conflicts and wars going on, they want our money, they want military weapons but they don't want our ideology. "When will they ever learn, when will they ever learn!"
I finally called and made the connection I needed. This changed my life. I started to process my Vietnam experiences with guys who were there with me and for the next 20 years submerged myself in helping others do the same.
In 1992 while getting some help at The Vet Center, I came out of a counseling session and noticed on the Bulletin Board my units patch with a phone number dangling off the bottom of the page. I took one. I held it in my wallet for 6 months, looked at it occasionally and almost tossed it away several times. I finally called and made the connection I needed. THIS CHANGED MY LIFE.
I started to process my Vietnam experiences with guys who were there with me and for the next 20 years submerged myself in helping others do the same. I became a leader in the 11th ACVVC, that is Armored Cavalry Veterans of Vietnam and Cambodia. It was very rewarding being able to help friends and families put their thoughts and lives back together.
I am proud to say that through my efforts as Scholarship Chairman and Vice President of The 11ACVVC we have contributed $1,200.000.00 to our kids for scholarships.
Since acknowledging the frustration and futility for being a combat wound RVN Vet, the single thing that us Viet Nam Vets can be most proud of is the way we have taught our society since those dark times, to hate wars but respect the soldiers and sailors who serve our country.
When I see people going up to soldiers and thanking them for their service……it brings a tear to my eye. In 1991 while getting some ice cream in Shakopee at Dairy Queen with my kids, a lady who noticed my Combat Wounded Plates came up to my car and said, "thank you for serving"………………..I couldn't finish my ice cream cone.
John J. Sorich III
Alpha Troop, !st Platoon, 11th ACR 1969
Story Themes: 11th Armored Cavalry, 1968, 1969, 1970, 90th Replacement Center, Army, Brotherhood, California, Coming Home, Death and Loss, Dissent, Draft, Fort Ord, George Patton Jr., John Sorich, Kincheloe Air Force Base, Los Angeles, Marriage, Michigan, Minneapolis, Moreno Valley, Politics, PTSD, Read, Talk Therapy, Therapy, Weaponry
Recommended Stories