Reconnect with the Community
Tom Lyons served with the U.S. Air Force and the Minnesota Air National Guard from 1970 through 1976. During the war in Vietnam, Tom was stationed at Cam Ranh Bay. Through volunteer work at both the Minnesota Military Family Foundation and as host of the Minnesota Military Radio Hour, Tom is continuing to serve his country and community by amplifying the voices of military heroes amongst us, as well as military families.
While I'm no longer in uniform, I choose to tell the stories of our nation's heroes and support military families in order to continue to serve this great nation.
Biographical Details
Submitted From: St. Louis Park, MN

Primary Location During Vietnam: Cam Ranh Bay, Vietnam

Story Subject: Military Service
Military Branch: U.S. Air Force
Dates of Service: 1970 - 1976
Veteran Organization: Minnesota Military Family Foundation; Minnesota Military Radio
Specialty: Combat Support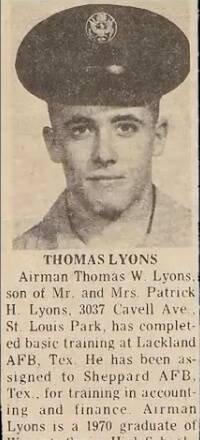 Story Themes: 1970, 1971, 1972, 1973, 1974, 1975, 1976, Cam Ranh Bay, Combat Support, Family, Minnesota Military Family Foundation, Minnesota Military Radio, Saint Louis Park, St Louis Park, Thomas Lyons, Tom Lyons, Volunteer, Watch
Recommended Stories