My Uncle Bill
My uncle, Lt. William E. Mickelsen, Jr., born October 25, 1934, was a career U.S. Navy Officer. He was commissioned on April 14, 1961, and Designated Naval Aviator on June 14, 1962.
In 1969 Lt. Mickelsen was assigned to fly reconnaissance missions off the coast of Vietnam as a member of Attack Squadron 144, secured on the aircraft carrier U.S.S. Bon Homme Richard, in the Gulf of Tonkin.
On August 10, 1969, Lt. Mickelsen was returning from a mission. On approach to the aircraft carrier he lost audio contact with the control room and did not hear instructions to abort his landing. He attempted to land his plane but struck the ship, skidded off the side, and plunged into the ocean. He and his aircraft sunk and were never recovered.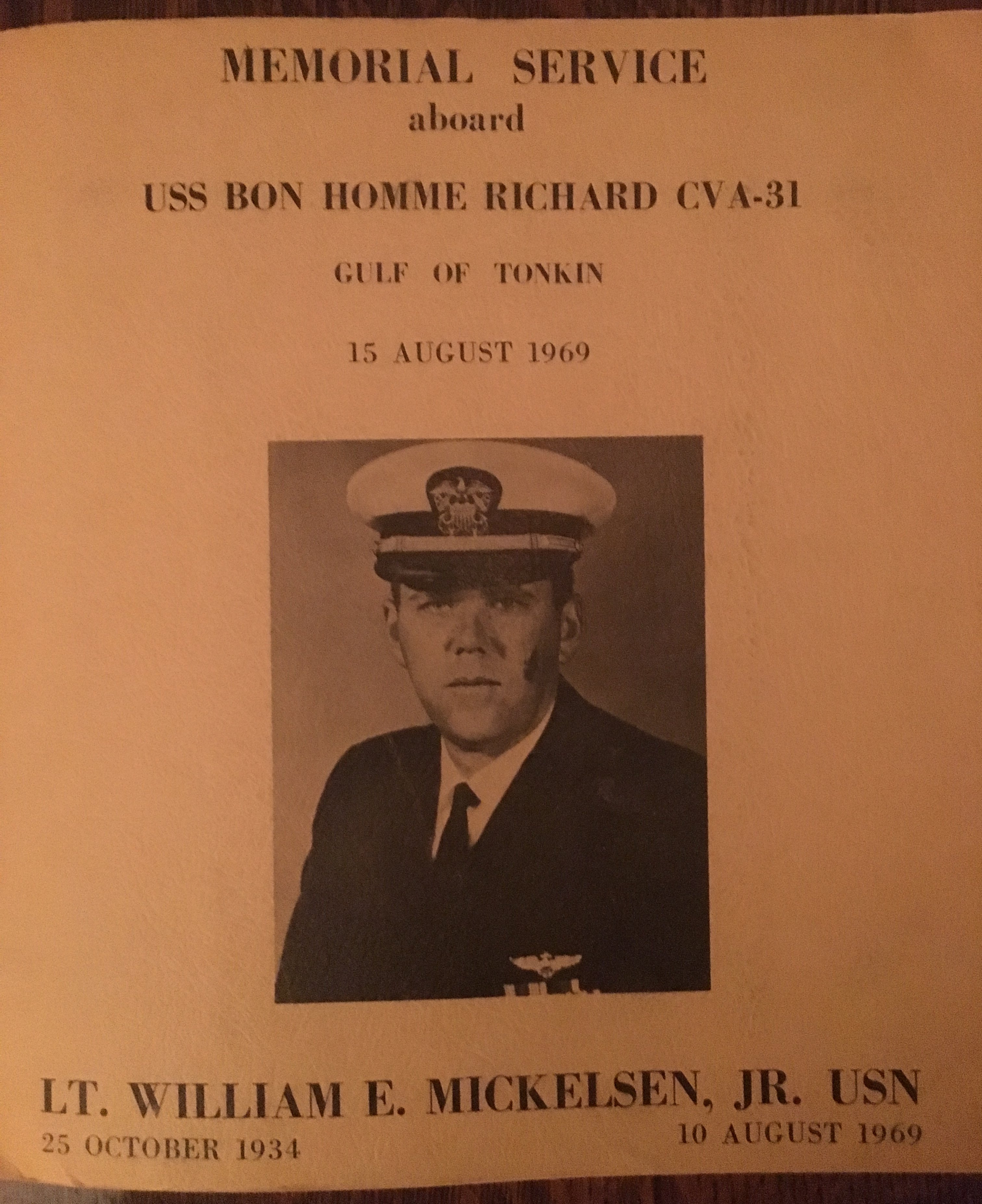 An in person notification of his death was made at the home of my grandparents, Wm. E. Mickelsen Sr., and Olga Mickelsen, residents of south Minneapolis.
A memorial service was conducted on board the U.S.S. Bon Homme Richard on August 15, 1969, attended by Attack Squadron 144 and Carrier Air Wing Five.
Remarks were made by Commander R. F. Mohrhardt and Commander G. B. Allen. The Commanding Officer, Captain D. W. Alderton gave tribute.
Chaplain R.A. Roy and Chaplain J. D. Reid spoke. Four LCDR wreath bearers committed his memorial wreath to the deep. Bugler E. J. Valdez played Taps.
A pictorial record of remembrance was created in the form of a booklet. Copies of the booklet were sent to my family.
Lt. Mickelsen's death is designated as "Killed in Action", and his name is inscribed in the Viet Nam Veterans Memorial Wall in Washington, D.C.
While growing up, Uncle Bill was my hero. When he was variously stationed in Europe or Asia, he would send presents to my sister and me. To us these were exotic gifts, such as a pony skin rug from Iceland, and ceramic figures from Germany and Japan.
Uncle Bill taught me how to drive a car, by taking me to the old Met Stadium parking lot in Bloomington to practice driving and parking.
My uncle's encouragement and support helped me decide to pursue my own travel desires by working for an international airline after college.
After Uncle Bill was married I visited him and his wife, Dorita, at naval bases in Meridian, Mississippi, and Hanford, California. Dorita was raised in a Navy family in Coronado, CA. Her father was a high ranking naval officer who served in WWII.
About 10 days after notification of his death I received in the mail a handwritten letter... he shared with me that he found out he was looking forward to being a daddy.
In summer 1969 my aunt Doe informed my uncle that she was pregnant with their first child, due the following February. About 10 days after notification of his death I received in the mail a handwritten letter from Uncle Bill dated August 8. In the letter he shared with me that he found out he was going to be a father, and that he was looking forward to being a daddy, and that he hoped it would be a girl.
My cousin Bill was born on February 4, 1970. My aunt never remarried. I still have the memorial booklet and Uncle Bill's letter, written 2 days before his death.
STORY UPDATE
We recently received the following message for a woman named Sharon
who was looking to connect with Kathleen Varner:
"Good Afternoon, I was going through some boxes and found a Vietnam Memorial bracelet I wore. The inscription is for Lt. William E Mickelsen Jr. USN 10 Aug 69 NVN. I read a memorial by Kathleen A Varner and I would like to send this bracelet home to his family."
Kathleen shared this update about the incredible connection that was made: "You will be happy to know that Sharon and I connected via email. She seems like a lovely person. She mailed her Viet Nam bracelet to me."
It truly is amazing that Sharon even read my story, let alone matched the name with the bracelet that she wore decades ago.
Sharon: "Thank you Katie for your help in connecting me with Kathleen. Her Uncle Bill's bracelet is in the mail. She should receive it in a couple of days... I am so proud to have worn it in honor of Lt. William E Mickelsen Jr. USN. Sharon."
Kathleen: "It arrived on Saturday. I will affix it to the Memorial booklet provided by the Navy in 1969. I thanked Sharon, gave her a brief family update about Uncle Bill's only child, and told her also that the bracelet will be kept with the Memorial.
Thank you for interceding on our behalf and making this happen. It truly is amazing that Sharon even read my story, let alone matched the name with the bracelet that she wore decades ago."
Story Themes: 1961, 1962, 1963, 1964, 1965, 1966, 1967, 1968, 1969, Bill Mickelsen, Death and Loss, Family, Gulf of Tonkin, Kathleen Varner, KIA, Killed in Action, Memorial, Minneapolis, Navy, Read, The Vietnam Memorial, The Vietnam Wall, USS Bon Homme Richard, William Mickelsen
Recommended Stories