Little Did I Know
As the plane touched down in January of 1970 at Cam Rahn Bay I thought will this be my last flight. No time was wasted in processing me into country as within four hours I was on my way to Quin Nhon where I was then picked up and taken to my duty base in between Quin Nhon and An Khe in Cha Rang Valley.
Little did I know this is where I would meet my assailants.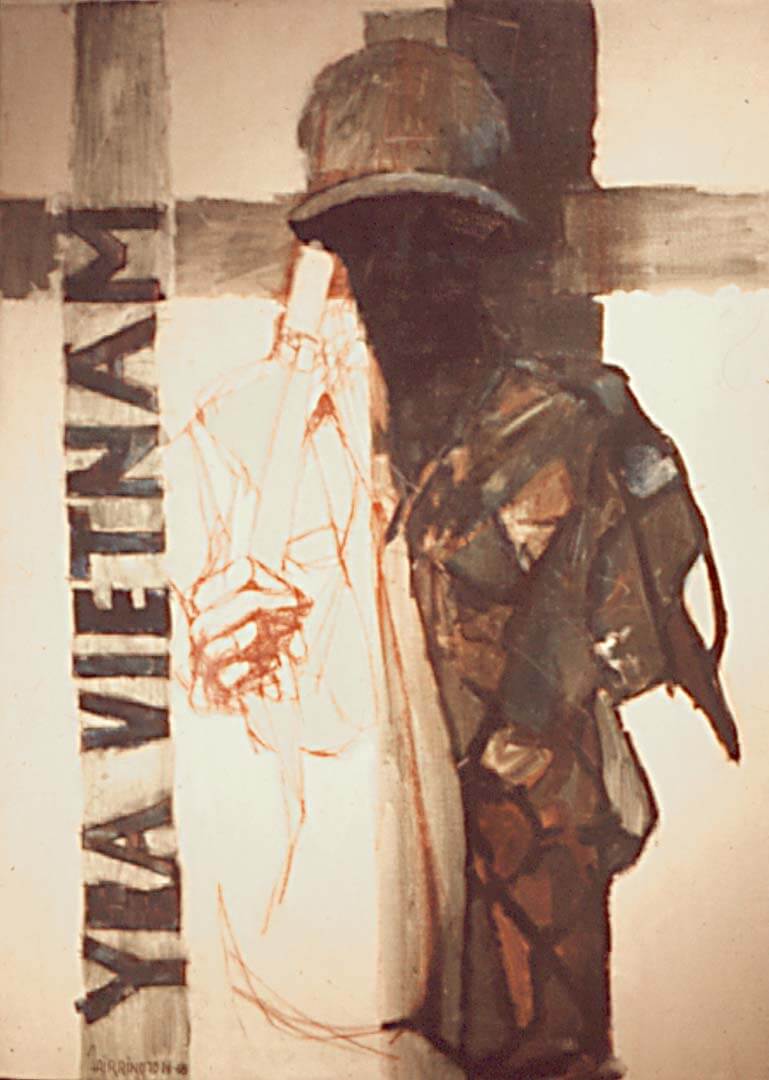 Half way through my tour while on guard duty around 0130 hours I challenged a figure (following military procedures) who was approaching our gate. After hollering stop-Dung Lai for the third time and the figure kept coming I chambered a round in my 45. Upon hearing this the figure stopped at which time I was able to have it advance and identify it. Turned out to be a friendly at which time I allowed him in.
The Sergeant of the guard was called to investigate the incident. I was relieved of duty and ordered to return and stay in my hooch. The Sergeant said he would be up to talk to me after he returned. Never did see him, but heard him on the lower level talking with other off duty guards.
Awhile passed when I heard footsteps on the stairs. Thinking it was the Sergeant I stood to address him. To my surprise it was three off duty guards who approached. One asked me what I was thinking locking and loading on one of our own as another was going around the room turning out the lights. As I'm thinking, (this doesn't look good) the last light went out at which time I felt something hit my face.
Next thing I remember is coming to on my cot laying in a pool of blood.
Next thing I remember is coming to on my cot laying in a pool of blood.
I heard footsteps again and I'm thinking are they coming back? Luckily it was another guard coming up to see what happened. He helped me up and to the aid station where the doc proceeded to stitch my face up.
The next day I was served with Article 15 papers and ordered to appear before the judge advocate. I was found guilty and busted to a private with my pay being cut. I tried to appeal but to no avail. I made it through the rest of my tour without any further instances.
Upon arrival back in "The Land", I was processed through customs offered a steak meal and shipped out to Fort Knox. I still felt I was wronged and enlisted the aid of my Minnesota Congressman who started an investiagation.
Time passed and one day I was called to the CO's office. It was then that I was informed that a mistake was made and everything had been reversed along with letters of reprimand written to and included in the officers in charge (at the time) personal files. Felt like a big load had been lifted from me. But it was to late the damage had been done.
Read More
Read Less

I lived with this for the next 45 years at which time I could no longer handle the traumatic effects it had done to me. (Not sleeping well, recurring dreams, not able to trust, being in crowds, rooms going dark, footsteps on stairs, constantly checking around for someone to jump me, distancing me from others and depression). To which I am now going through PTSD treatment.
I asked for help from the VA around 1973-74 to which I was told they could find nothing wrong and sent me home. I was however given a 10 percent disability rating for facial scarring. Living with the effects of this incident has been and still is hell on me and my families.
I now have a great VA doctor who specializes in treating PTSD. He thanked me and all Nam Vets for being the groundbreakers for today's treatment of PTSD in returning vets. Because back then little was known about PTSD and we were the catalysts in getting the VA to research and offer better help to today's returning war vets.


Close
Me? I'm going through this again during treatment and am working to regain my life.
Story Themes: Cha Rang Valley, Coming Home, Fort Knox, Ft. Knox, Guard Duty, Physical Wounds, PTSD, Quin Nhon, Read, The VA
Recommended Stories