Forever in Our Hearts
Richard C. Nelson Co.
He served with Foxtrot Company, 2nd Battalion, and 3rd Marines in the area around Khe Sanh for 14 months from February 1967 to April 1968.
Always on our mind when Dick was with us. Now departed Dick will remain forever in our hearts. In accordance with his wishes he is buried next to his parents.
The Vietnam War was the live changing period of life. Fifty years ago the Vietnam War was the life changing period of his life. He was 20 years old, not old enough to vote or even buy a beer.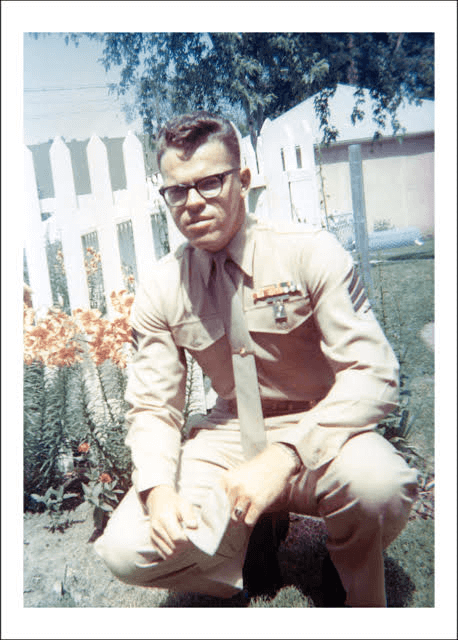 Richard (Dick) Nelson was a lifelong resident of South Minneapolis. He attended Saint Helena grade school DE LaSalle H.S. and the University of Minnesota He was always an honor roll student.
After 2 years of college Dick had enlisted in the Marine Corps. He could have been deferred. He followed a family military tradition: brothers, cousins and notably a World War 2 uncle.
Dick was inducted into the Virtual Vietnam Honor Roll (along with 300 service men) on June 17th 2017 at a ceremony at the Vietnam Memorial in Washington D.C.
Family members traveled from Minnesota, California, Virginia and New York. A story about Dick was written by Curt Brown and appeared in the Star Tribune 6/11/2017. In attendance at the Washington D.C. ceremony was Chuck Chritton, Dick's lieutenant from Vietnam. Chuck was one of the people whose life Dick saved in Vietnam during June 1967.
As a Marine Dick owed unstinting support to his fellow Marines. In addition to saving fellow Marines Dick was known to use his courage and language skills to save innocent Vietnamese caught in the cross-fire of this tragic war.
Dick was exceedingly bright in school. The Marine Corps asked him to learn Vietnamese language. He was an infantry soldier (corporal), battlefield interpreter, radio operator. At 20 years of age he often called in artillery and aerial support as well as medical evacuations.
Irony was compounded later in life as Dick (and his caregivers) had to fight his government for benefits for physical and mental health.
Dick wrote 37 letters home from Vietnam. One letter describing the Marine assault of Hill 881N was printed in George Grimm's column on May 28 1967. It describes the final assault on Hill 881N near Khe Sanh. The so-called "Hill Battles" of this period were some of the most intense direct combat of the war. Each side had staggering losses. The area that was conquered or occupied by US forces was later abandoned a few short months later.
Dick came home and finished a Social Work degree at the University of Minnesota.
The war forever changed him physical and mentally. Due to continuous exposure to Agent Orange he became a diabetic. Like many veterans the continuous combat left many mental scars that contributed to alcoholism, PTSD and a sense of isolation.


Click to Read More
Read Less

For Dick the Vietnam struggle and the physical and mental wounds encountered world greatly impact the rest of his life. It would take a long time the Agent Orange problem was recognized and veterans could receive treatment. Dick's life after Vietnam was a hard to understand contradiction: a strong battle tested combat Marine was now a marginally productive civilian. Dick could not explain his own "triggers"
Dick lived in a maelstrom of perpetual turmoil. The Vietnam overhang was the source of many ills that only multiplied. They included untreated diabetes, stomach ulcers, accidents, job woes and financial pressures.
There were many "fresh starts" but it was difficult for him to gain traction in his life. He worked for the State of MN as a parole officer and later in Human Resources for the State College System until his health faltered and he retired in 1990.
Sometime Dick would softly lament "Some days I felt I had more in common with the enemy soldiers we faced who perhaps like me wished to live a simple but meaningful life than our leaders or even much of the public.
Dick could quote from his High School days Tennyson's famous poem "The Charge of the Light Brigade". Dick had a "sense of history" and was fond of quoting JF Kennedy.

Dick's tour of Vietnam was full of irony. There were strategic l errors at the highest level, rifles that jammed, inadequate needed supplies and the most ambivalent support from the country that Dick served. Irony was compounded later in life as Dick (and his caregivers) had to "fight his government for benefits" for physical and mental health.


Close

As his principal caregiver for over 40 years I was aware of the many challenges over decades of isolation, pain and suffering.
Over time Dick lost his physical health, had extended hospitalizations, gave up his career, lost his home was evicted from apartments and because of his health was no longer able to drive his car.
Dick lived the life of a "brittle diabetic" desperately trying to keep one's balance and just survive the day. Over time his body and spirit became weak and weaker. He just wanted to live a normal life.
He died quietly on September 24, 2014. There were only 11 people at his funeral.
Dick was well known throughout his life as being very quiet, humble and notably unselfish. He never married nor had children. Besides his cats
One sign of his devotion to family was his choice to be buried next to the graves of his parents and not in the national cemetery with veterans of other wars.
He was devoted to family especially nieces and nephews. He took great interest in their school work and activities. One sign of his devotion to family was his choice to be buried next to the graves of his parents and not in the national cemetery with veterans of other wars.
Our family regularly visits the cemetery. We gratefully acknowledge Dick's service. He was a true hero. A day does not go by without missing him. He will remain forever in our hearts.
Story Themes: 1967, 1968, 3rd Marines, Agent Orange, Combat, Correspondence, Death and Loss, Dick Nelson, Enlisting, James Nelson, Marines, Memorial, Minneapolis, PTSD, Read, Richard Nelson
Recommended Stories