Don't Trust Your Government
Jerry Miron was a scout dog handler in Vietnam. He and his German shepherd, Rebel, would go out in advance of troops looking for hidden dangers. Once when he was on a secret mission in Cambodia, Jerry received a newspaper from back home that said Nixon denied the US was in Cambodia. From that point on, he had trouble trusting the government.
I said, "Pull back, bring in gunships, bring in cobras, spray the area, then have these guys go out." And they said, "Stand down."
Jerry's story was captured with the help of TPT's Minnesota Remembers Vietnam team.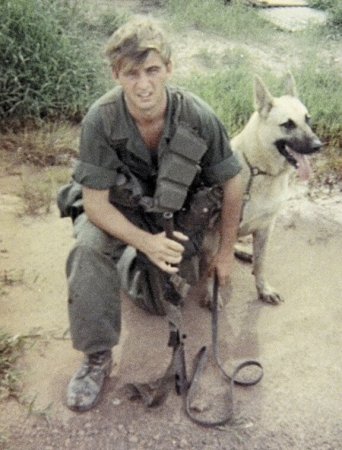 Jerry was a featured storyteller for
MINNESOTA REMEMBERS VIETNAM: EPILOGUE and the Vietnam War 360 series.
Biographical Details
Submitted From: White Bear Lake, MN

Primary Location During Vietnam: Cambodia

Story Subject: Military Service
Military Branch: U.S. Army
Unit: 41st Scout Dog Platoon

This story is part of the Mental Health Awareness story collection.
Learn more.
Story Themes: 1967, 1968, 1st Cavalry Division, 41st Scout Dog Platoon, Ambush, Animals, Cambodia, Coming Home, Correspondence, dog, History Theatre, Jerry Miron, MN Warriors Ice Hockey, Politics, PTSD, Richard Nixon, Scout Dog, Suicide
Recommended Stories