A Soldiers Story/Battles at Dak To
Unlike most returning veterans of the Vietnam War, I had lots to say right from the beginning. Within a few years I started to write down the things I had witnessed as stories and kept them in a journal. I had intended to show this to my children when they grew up as a warning in case they ever wanted to join the military, as I myself had been rather clueless while joining up right out of high school.
During my year in the jungles of Vietnam, we soldiers didn't talk much at all about the politics of the war, primarily because we really didn't know any relevant information about it. As children growing up in our society we assumed that the adults that were our country's 'leaders' knew what they were doing.
Upon my return I started to research the beginnings of the American involvement in Vietnam, and I must say I was rather appalled and became angry! We young soldiers put our lives on the line daily and with very few exceptions served faithfully and honorably which is more than I can say about the politicians and military planners who started this war. I came to believe that the war was wrong on so many levels, but particularly because the United States prevented the Vietnamese people from having their reunification election in 1956.
In the attached video that I took in Vietnam you will see some of the places that my unit, the 173rd Airborne Brigade served and fought at.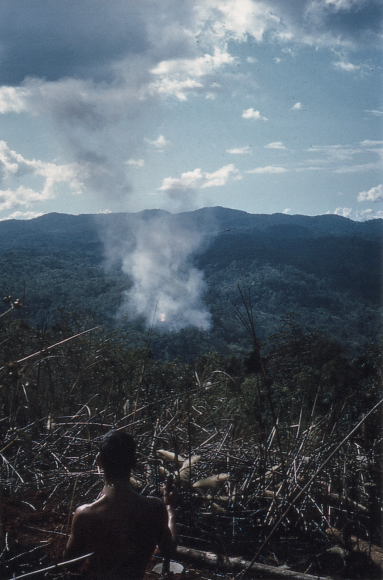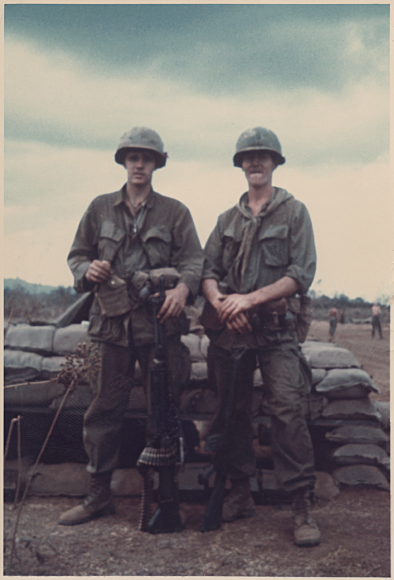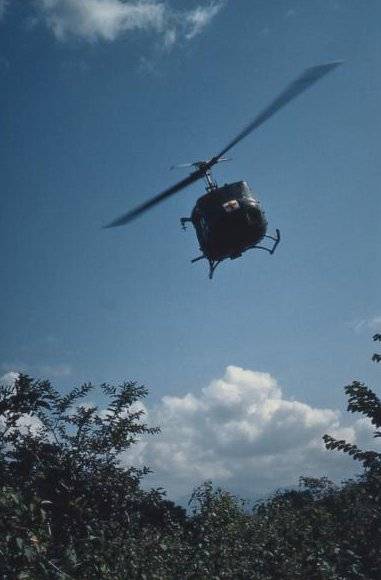 We young soldiers put our lives on the line daily and with very few exceptions served faithfully and honorably which is more than I can say about the politicians and military planners who started this war.
We started at Bien Hoa in the south, then we moved on to war zones C and D, then to the coast at Tuy Hoa, before ending up in the Central highlands around Pleiku and Dak To. Dak To can be found on the map where the borders of Vietnam, Laos and Cambodia meet.
As we arrived at Dak To in November of 1967 we were told of an intelligence report which stated that the North Vietnamese Army or NVA wanted to 'wipe out' the 173rd. It was estimated that there were about 12,000 enemy troops in the Dak To area, while the 173rd numbered about 1400 infantry foot soldiers in 12 companies. Additionally the U.S. Fourth Infantry Div. was nearby with a few thousand men.
On Nov. 8, 1967 my company, B Co. 1st Battalion of the 173rd along with C Co. 1st Battalion were flown to Hill 823. This hilltop was fought for two days earlier by B Co. 4th Battalion. They withstood human wave attacks by the NVA and had 30+ casualties, while the NVA suffered over 100 dead soldiers who were then buried on the hillside in a mass grave.
This hill would become the 1st Battalion base camp and artillery base for the next couple of weeks. My company would guard the hill and patrol the immediate area below. We had an ominous feeling being up here as a few months earlier one of our companies had been overrun and mostly wiped out in this area.
On Nov. 10, my partners and I stood and watched as C Co. of the 1st Battalion walked by our foxhole to go down the hill on a 'search and destroy' mission in the valley below.
As the men walked by us one by one, we exchanged slow motion glances into their eyes that told of a foreboding to the dangers that lie ahead.
Among the young soldiers was a man named John Barnes. That first day they walked for about a mile and then camped for the night. The next morning as they continued on they were attacked by the NVA forces. They soon found themselves surrounded and fighting for their lives.
Select the to set up the slideshow.
We watched the battle unfolding below us from our hilltop. We could hear the continuous roar of gunfire and explosions from grenades, rockets and mortars. After awhile we could see purple, yellow and green smoke rise above the jungle treetops as the paratroopers tried to mark their positions for the coming air strikes. At this point I took out my movie camera and started filming as the American F-100 jets roared in and dropped fragmentation bombs around the beleaguered soldiers' perimeter.
Read More
Read Less

At one point during the battle an NVA grenade was tossed into a group of wounded soldiers, some of whom couldn't move. Pfc. John Barnes who himself was wounded, found it within himself to jump onto the grenade just as it exploded - blowing a hole in himself. Reportedly he cried out "I'm gonna die" - "I'm gonna die" - tell my Mommy I love her!" And he died. In doing so he saved the lives of his buddies. Days later the Company Commander would recommend John Barnes for the 'Medal of Honor.' When the Battalion Commander heard of this he replied "We don't give medals to boys who commit suicide!" Despite that protest, the "Medal of Honor" was posthumously awarded to John Barnes.
Five miles across this same valley the 2nd and 4th Battalions of the 173rd Airborne Brigade would fight an even bigger battle for Hill 875 about ten days later. In the four day battle for the hilltop over 100 paratroopers died with about 250 wounded. During that battle an American jet accidentally dropped a 500 lb. bomb on our men. While this battle raged on the Commander of U.S. Forces in Vietnam, General William Westmoreland was in Washington D.C. giving the National Press Club an optimistic report on how well the war was going!
The hill (875) was taken by the Americans and days later it was abandoned as our whole unit left the area. The only positive thing to come of these battles was that most of the NVA's 1st Infantry Division would have to sit out the Tet Offensive which would take place a couple months later due to their severe losses. As for the 1400 infantrymen of the 173rd Airborne Brigade who fought for three weeks at Dak To, our collective casualties were 60% including over 200 killed and 650 wounded.


Close
Was it all worth it? I think not, but I have much more to say about that as well as a collection of my true short stories of my yearlong journey in Vietnam in my book "The Things I Saw - A Soldiers Journey" which is available from Amazon.com.
Story Themes: 173rd Airborne Brigade, Battle of Dak To, Central Highlands, Combat, Death and Loss, Dissent, Draft, Enlisting, Growing Up, Hill 823, Infantry, Jeff Nordahl, Jeffrey Nordahl, John Barnes, Medal of Honor, Politics, Protest, Search and Destroy, Veterans Against The War, William Westmoreland
Recommended Stories